Do you like to be on top of things? Find out all about it here!
Looking for the ideal holiday destination? Discover Benalmádena, in the heart of paradise on the Costa del Sol. It's one of Malaga's most famous towns, thanks to its sunshine, its cuisine and its cultural offer. Thousands of families choose Benalmádena as their perfect holiday spot every year. Want to know why? Read on, we'll tell you all about it!
First of all, its Mediterranean climate. The Costa del Sol area is known for its sunny days and pleasant temperatures, which attract visitors from all over the world. Secondly, its geographical position is unbeatable: situated right on the coast of Malaga, it offers beach, urban area and mountainous landscapes. In addition, there are towns with attractive leisure options very close to Benalmádena.
Benalmádena offers an endless number of activities of all kinds for its visitors to enjoy, whatever the season. It's the ideal place to disconnect as a couple, have fun with friends, or spend time with the family. One thing is beyond doubt if you visit Benalmádena: you'll come back!
Here are some tips on what to do in Benalmádena, so you can spend some  unforgettable days with your family: enjoy its endless beaches, the adventures of Selwo Marina, the views of the cable car, or all the possible options! If you're looking for activities to do in Benalmádena with children, you've come to the right place. Read on to start planning the ideal family getaway. You'll love it!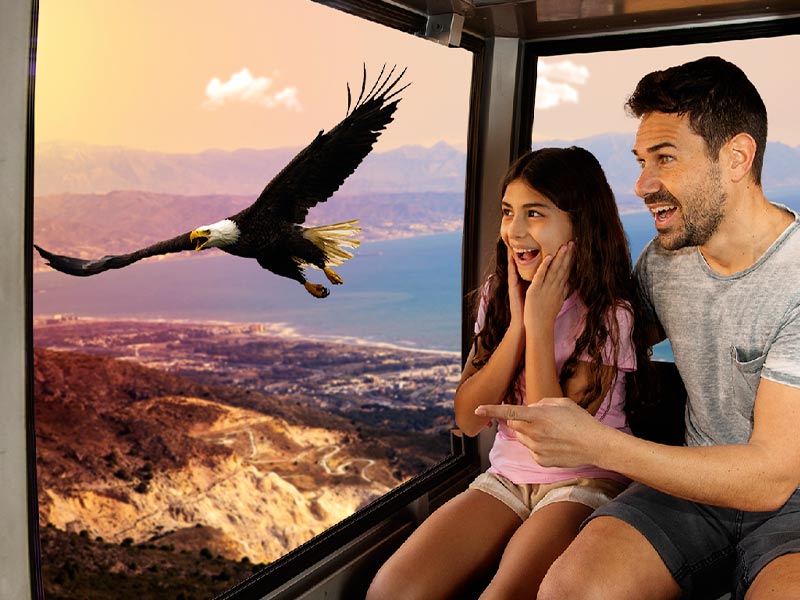 One day (or as many as you need) at the beach
We all dream of the moment when we can spread out our towel on the beach to relax and disconnect from everything. Going to the beach is the ideal option for everyone. Whether you are a couple with or without children or a group of friends, a getaway to the beach is always a good idea.
If you're looking for places to relax, the beaches of Benalmádena are always a good choice. The Costa del Sol is known for its good weather and warm, sunny days; whatever the season, going to the beach is an ideal option for everyone. In winter, you can take walks on the sand while you disconnect from the daily grind, enjoying the bright sunshine. In summer, the waves of the sea will delight the little ones while the adults sunbathe. If you are going to spend your vacations in Benalmádena with children, we've no doubt you'll come back next year!
In addition, Benalmádena beach offers a wide variety of activities for the whole family. You can do water-skiing, paddle surfing, kayaking... and this summer you have no excuse to miss out on sport! There are a thousand things to do in Benalmádena, so you will be entertained from start to finish.
You will spend fantastic days at the beach, combining relaxation with fun. You'll enjoy miles and miles of beach and dreamlike views during the day, and also the best entertainment at night. So, if you were looking for things to see and do in Benalmádena, its wonderful beaches are a must. Even if you visit in winter, you can go down for a walk on the sand while enjoying the panoramic view. You will come back to Monday full of energy and good mood!
In addition, the beaches are comfortable if you are traveling with children. The sand is fine, and you can find all kinds of services near the beach. Choosing Benalmádena beach to spend a few days or even the whole holiday is always a fantastic idea. Don't think twice, come and enjoy one of the most fantastic beaches on the Costa del Sol. Benalmádena and its leisure offer awaits you!
Set sail on a sea of adventures at Selwo Marina
We know that you have already been itching to visit Benalmádena, and its beaches are paradise! However, you may be left wanting to know more about its marine ecosystem. If you're spending your holidays in Benalmádena, and especially if you come with children, a visit to Selwo Marina is a must. This is the marine zoo par excellence in Andalusia, as it is the only dolphinarium in the entire region.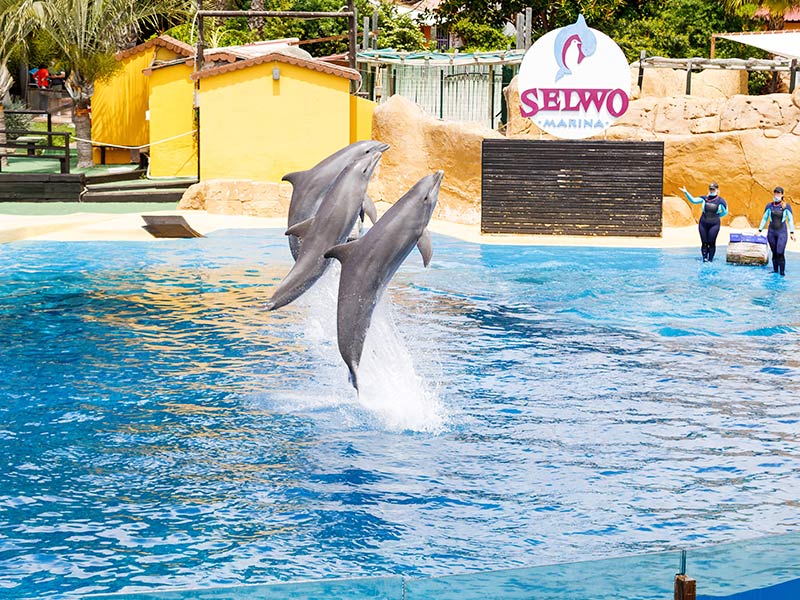 In Selwo Marina you can learn about different marine species while having a great day out. One of its main objectives is to promote education, so it offers visitors the opportunity to learn about a great variety of species from  the marine world. If you were looking for things to see and do in Benalmádena with children, Selwo Marina is a perfect option. Young and old alike will have a great time at the dolphinarium in Malaga.
And that's not all! Selwo Marina offers a wide range of activities for the whole family. You will take part in unique activities that you won't find anywhere else. Your holidays in Benalmádena will become unforgettable memories for everyone. You will interact with the most iconic animals: discovering dolphins close up, learning about sea lions and meeting the amazing penguins. 
In addition, this animal park is part of various conservation programs, since its main objective is to care for the welfare of the animals it hosts, transmitting this value to its visitors every day. If you are interested in caring for the environment, you will love a visit to Selwo Marina.
Selwo Marina is the perfect plan if you want to spend an unforgettable day out. You can take part in unique activities, suitable for all ages. In addition, you can attend a variety of educational talks about the different species. Take the plunge and visit Selwo Marina!
Take the fun to another level at the Benalmádena Cable Car
We know that the coast of Malaga leaves every visitor lost for words. Its landscapes are magnificent, including panoramic views of mountain and sea. However, we know that there is nothing quite like enjoying all the sights from one place. 
Sounds good, doesn't it? Enjoying the best panoramic views of the coast of Malaga is possible, thanks to Teleférico Benalmádena. If you were looking for what to see and do on the Costa del Sol, don't think twice and set aside a day for this activity.
Teleférico Benalmádena offers different types of tickets. It doesn't matter if you want to do the activity as a couple, family or group, they have your ideal ticket. It's a perfect opportunity to enjoy amazing views of Malaga from the sky. No matter if you are a tourist in love with the Costa del Sol or a native of Malaga, this activity leaves everyone speechless!
Riding on the cable car, you can reach the top of Mount Calamorro, the highest peak in the region, so you can see much of Malaga and even Gibraltar on clear days. When you reach the summit, you can have lunch at the highest restaurant in Benalmádena or enjoy a day in nature with your family and friends. It's a Benalmádena highlight that you simply cannot miss.
If you're sporty, you're in luck! You'll find a variety of trails that you can do on foot or by bicycle. If, on the other hand, you are not used to sport, no problem. The trails to the panoramic viewpoints on the summit are less intense and, therefore, easier. You can choose the route you like the most and go up by cable car and walk down, or vice versa. There are multiple options to suit everyone's taste!
We must also highlight the fantastic natural area that you can visit thanks to Teleférico Benalmádena. The views are, without a doubt, amazing, and the panorama from the top leaves everyone speechless. The flora and fauna of the Mediterranean ecosystem are a true gift for nature lovers. The variety of species that inhabit the area is impressive!
Flying more than 700 meters above the ground has never been so safe and extraordinary because Teleférico Benalmádena has everything you need. You'll find all kinds of services there to make your day go smoothly, including our wonderful restaurants, where great cuisine meets unbeatable views. We're sure you have never eaten with the world at your feet!
If you still want more, at the top of Calamorro there is a birds of prey display hosted by the Fundación Valle de las Águilas. This spectacle will please everyone; is there anything more beautiful than the flight of a bird?
Take a look at this option and enjoy one of the best things to do in Malaga. It will become a special day to remember because there is nothing more special than discovering nature as a family.